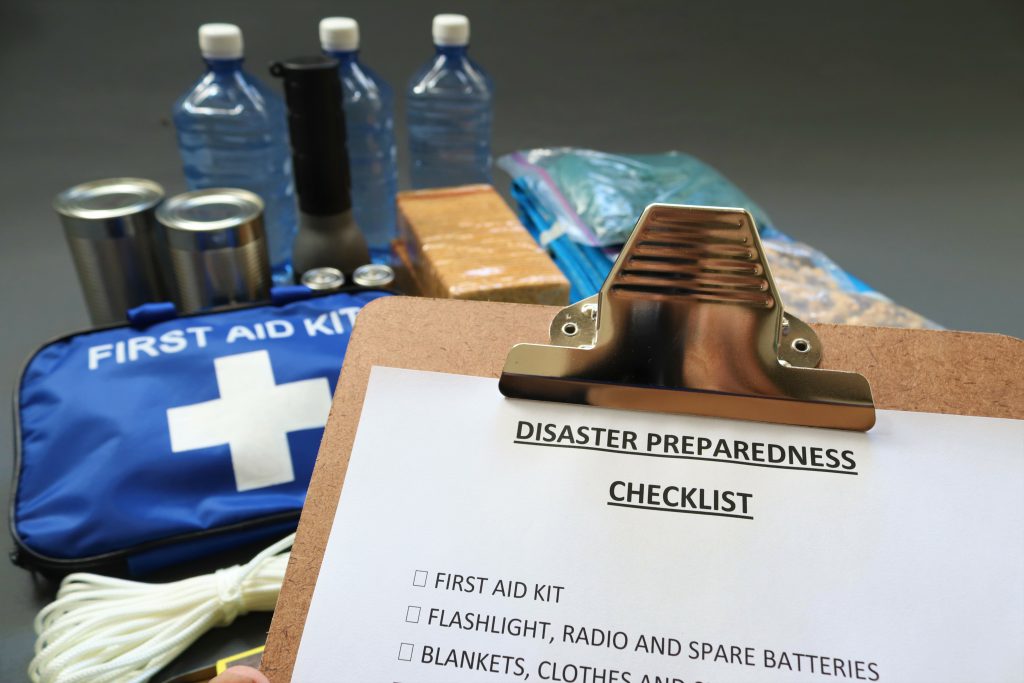 Follow these easy steps to make sure you're protected.
Natural disasters, such as wildfires, floods, and blizzards, may force you to evacuate your home or shelter-in-place at short notice. It is important to know what to do in case of an emergency well before disaster strikes.
If you are an older adult living in the community, you may face some challenges during an emergency. For example, you may have mobility problems, or chronic health conditions, or you may not have any family or friends nearby to support you. Support services that are usually available, such as help from caregivers or in-home health care and meal delivery services, may be unavailable for a period of time. In addition, older adults may experience challenges that come with advanced age, such as hearing or vision problems or cognitive impairment, which may make it difficult to access, understand, and respond to emergency instructions.
You or the person you care for can be prepared for emergency situations by creating a plan, reviewing or practicing it regularly, and keeping an emergency supply kit.
Creating a Plan
The first step in preparing for an emergency is creating a plan. Work with your friends, family, and neighbors to develop a plan that will fit your needs.
Choose a contact person who will check on you during a disaster, and decide how you will communicate with each other (for instance, by telephone, knocking on doors). Consider speaking with your neighbors about developing a check-in system together.
Create a list of contact information for family members and friends. Leave a copy by your phone(s) and include one in your Emergency Supply Kit.
Plan how you will leave and where you will go during an evacuation. If you are living in a retirement or assisted living community, learn what procedures are in place in case of emergencies. Keep a copy of exit routes and meeting places in an easy-to-reach place.
Create a care plan and keep a copy in your Emergency Supply Kit. Try out the CDC's easy-to-use care plan template.
If you have medical, transportation, or other access needs during an emergency, consider signing up for SMART911, Code Red, or your local county registry, depending upon which service your area uses to helps first responders identify people who may need assistance right away.
Creating an Emergency Supply Kit
After an emergency, you may not have access to clean water or electricity. Make sure you are prepared with your own supply of food, water, and other items to last for at least 72 hours.
Visit Ready.gov for a list of basic items to gather for your Disaster Supply Kit.
Medical-Related Items:

A 3-day supply of medicine, at a minimum. If medications need to be kept cold, have a cooler and ice packs available.

ID band (full name, contact number for family member/caregiver, and allergies)

Hearing aids and extra batteries

Glasses and/or contacts and contact solution

Medical supplies like syringes or extra batteries

Information about medical devices such as wheelchairs, walkers, and oxygen including model numbers and vender.

Documents (Keep physical copies in a waterproof bag and take photos of each document for backup):

Contact information for family members, doctors, pharmacies and/or caregivers

List of all medications, including the exact name of the medicine and the dosage, and contact information for pharmacy and doctor who prescribed medicine

List of allergies to food or medicines

Copies of medical insurance cards

Durable power of attorney and/or medical power of attorney documents, as appropriate.
Taking these steps will put you and/or your caregivers in a better position to deal with emergencies that may require you to evacuate or shelter in place. Contact your local Area Agency on Aging for information on senior services and resources in your area.
Wildfire smoke will likely be with us through the summer and into the fall. Here's what you need to know.
Wildfire smoke can cause irritating symptoms for healthy people and more serious health issues for people with respiratory problems and heart and lung disease. It's important to know how to protect yourself and your family from smoky air whenever possible.
Who is most at risk for the harmful effects of smoke?
Infants and young children suffer more from the effects of smoke because they breathe more air than adults for their body size. Older adults and people with lung and heart conditions are also especially sensitive to smoke in the air. Even low levels of smoke can cause breathing problems for sensitive groups with asthma, COPD, emphysema, and other chronic lung diseases. In addition, smoke can increase the risk of heart attack or stroke for people with chronic heart conditions and can increase the risk of premature birth in pregnant women.
When should we become concerned about the symptoms of smoke exposure?
Common effects of smoke exposure include irritated eyes, nose, and throat. However, you should call your doctor immediately if you have shortness of breath, chest pain or tightness, headaches, fatigue, or a combination of those symptoms that become severe.
What if I have an event outside or my child has a game we can't miss, and the air quality is low?
Visit the Idaho Department of Environmental Quality's air quality website or the Idaho Smoke Information Blog to check local smoke conditions. Download the AIR Idaho application on your mobile device for current smoke conditions in your area. The Department of Health and Welfare also provides activity guidelines for outdoor events and other resources to help determine your risk level. If an outdoor event or game isn't canceled because of smoke conditions, drink plenty of water and do your best to limit your time outside. If smoke-related symptoms become difficult or get a lot worse, move indoors. Your family's health is more important than a sporting event.
Should we consider wearing masks when conditions are poor?
While the most effective way to protect yourself from smoke is to stay indoors, we recognize this is not always possible. People who must be outside in the smoky air may benefit from wearing "particulate respirators" or N95 respirators. Respirator masks worn correctly may provide protection by filtering out fine particles in the smoke. However, many people find it difficult to wear a mask correctly. If a mask does not fit properly, it will provide little or no protection. For some, masks can make it harder to breathe normally. It is a good idea to check with your health care provider before using any mask.
How can we limit our exposure to smoke?
When conditions are poor, you should reduce your time and activities outside as much as possible. Stay indoors, in an air-conditioned area, if you can. If you don't have air conditioning, go someplace that does, like the mall or library. Otherwise, there are several things you can do to limit the smoky air you breathe:
Keep your windows and doors closed.
If you have central air conditioning, use an air filter rated MERV 8 or higher and turn the system fan on.
If you must drive in smoky areas, keep all windows closed and turn the vehicle airflow to recirculate to reduce the amount of smoke in the vehicle. Use caution and slow down when driving in smoky conditions.
Do not add to smoky conditions (e.g., burn candles, use propane/wood-burning stoves, aerosol sprays, smoke tobacco products, or vacuum. All of these and more can increase air pollution indoors.
Change air-conditioning filters more frequently as they may become clogged or dirty.
Use portable air clearers to reduce indoor air pollution.
Pay attention to local air quality reports and health warnings.
Where do I go for more information?
Please visit the resources listed below for up-to-date information on smoke conditions and resources on how to stay healthy during wildfire smoke events:
Brigitta Gruenberg is the Environmental Health Program Manager for the Department of Health and Welfare.
The Idaho Department of Health and Welfare is dedicated to strengthening Idahoans' health, safety, and independence. Learn more at healthandwelfare.idaho.gov.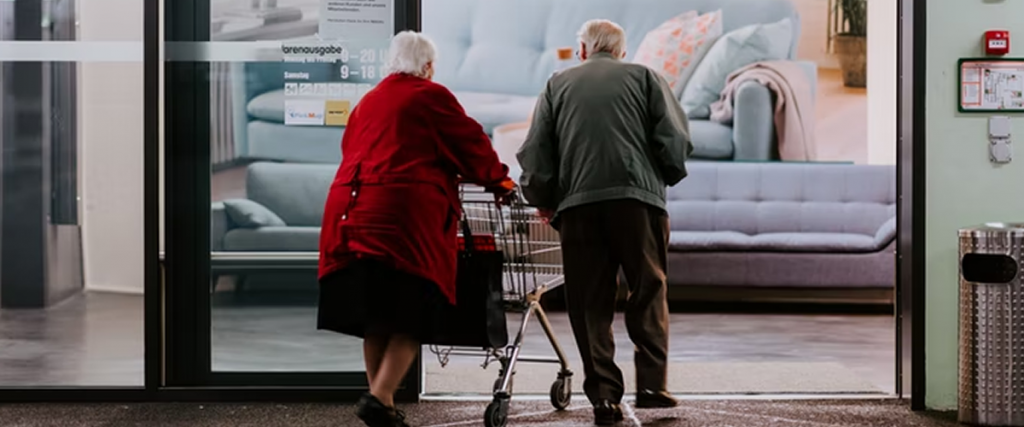 We all Cherish Choice and Autonomy
Every July Americans come together and revel in our freedoms. The freedom to make choices and pursue our own path is celebrated as a fundamental right.
Unfortunately, as we age people lose sight of the fact that we retain our civil rights, and often take away choice and self-determination of older Americans in the name of safety or concern. This is commonly called ageism and is a subtle prejudice we must avoid personally and call out in others when we see it.
It is true that many older Americans need support as they age but this should be done via honest conversation with the elder using a respectful attitude as we explain their options. Yet even today well-intentioned relatives and caregivers are stripping away older and disabled Idahoan's civil and legal rights, self-esteem, and quality of life by pursuing guardianship with the motivation to keep their older loved ones safe.
Although we applaud the motivation, the Idaho Commission on Aging advocates for older and disabled adults by urging concerned caregivers to consider the multitude of alternatives to guardianship for as long as possible.
What are alternatives to guardianship? Some examples include:
Representative payee
Durable powers of attorney
Health care surrogacy
Living wills
Trusts
Community advocacy systems
Joint checking accounts
Case management
Power of attorney – A power of attorney is a legal document. The document grants one person, generally called an agent, sometimes known as an attorney in fact, the authority to act on behalf of the person appointing them. The person appointing the agent is called the grantor. To create a power of attorney, an adult must be able to understand they are appointing the agent and understand the kinds of authority they are giving the agent. The scope of the agent's authority is limited by the terms of the document and by state laws. A grantor with capacity can revoke or modify the appointment of an agent in a power of attorney. Revocation of a power of attorney should be in writing, signed by the grantor, with a copy delivered to the agent and anyone who is likely to be dealing with the agent. In some states, the revocation needs to be recorded in the public records like a deed. A power of attorney is a private agreement and is not subject to automatic oversight by the Courts.
Health care surrogate – A health care surrogate is a person who makes health care decisions for a person, when the person lacks capacity to make health care decisions. This person may also be called a health care agent or proxy. In every state, a person with capacity can appoint a health care surrogate in a durable power of attorney that incudes health care authority. Many states have a short form for naming a health care surrogate. A person has capacity to appoint a health care surrogate if they understand what a health care decision is and can name a person they trust to make health care decisions. If a person does not appoint someone, 45 state statutes give guidance on who can make health care decisions. Generally, statutes turn to the nearest relatives to make health care decisions. Health care decision-making is the only area of decision-making where the law creates a default agent when a person does not name an agent in writing.
The authority of a health care surrogate to make health care decisions does not start until the person loses capacity, or knowingly defers to the agent. The determination of loss of capacity is made by the person's health care providers. The criteria and documentation for the loss of capacity is based on state law. The scope of the authority is defined in the document and by state law. If the person has capacity, the person can revoke or modify the appointment of a surrogate. Many states have a very low standard of capacity for revocation of an advance directive. Aside from leaving directions on who can make health care decisions, many people leave directions about the health care they want or do not want in the form of an advance directive or living will directive. When making health care decisions for another person, it is helpful to understand their health care values, goals of care, and specific wishes.
Social Security Representative Payee – A Social Security Representative Payee (rep payee) receives the benefits for a beneficiary who has been determined unable to manage money by the Social Security Administration (SSA). Rep payee is specific to Social Security benefits, including Social Security Disability and Supplemental Security Income (SSI). VA pensions and some private pensions have separate payee systems. Social Security will place the benefits in payee status if SSA has reason to believe that the beneficiary is unable to manage benefits. The evidence is either a verification from a physician who has seen the person recently, or evidence in a disability case of serious mental illness or substance abuse. The beneficiary can file voluntarily if they are unable to manage their benefits. The process is entirely administrative. Social Security does not recognize any other agents. Guardians and agents under powers of attorney must apply to Social Security to be recognized as a representative payee.
Someone seeking to be appointed as a rep payee should contact Social Security with the name and identifying information for the beneficiary, the reason the person needs a payee, and name and contact information of a physician who has recently seen the person and may include a proposed payee. Social Security then sends notice to the beneficiary, and a verification form to the physician. The beneficiary has a right to object to the need for a payee, or to the proposed payee. Upon finding of need for a rep payee, Social Security does a basic background check on the proposed payee. The payments must be directly deposited into a separate account, titled "payee as representative payee" for the benefit of the named beneficiary. Most payees file a very basic annual accounting. Representative Payee status can be terminated, at request of the beneficiary, with proof that the beneficiary has regained the ability to manage benefits. If the payee resigns or becomes unable to serve, benefits are held until a replacement payee can be appointed. There is a shortage of reliable volunteer payees and a need for representative payees. All payees are volunteers, with an exception for narrowly defined non-profits who are allowed to receive a limited fee from the benefits. In some states, inpatient residential settings, such as nursing homes, are allowed by state law or regulation to serve as representative payees.
Bank accounts – A common way to manage another person's finances is to authorize an agent to sign on to that person's bank accounts. There are two ways to do this: 1) add a person authorized to transact business on the account; or 2) make the bank account a joint account. A joint account creates a presumption of ownership in the account assets and may create inheritance rights. Joint accounts are very helpful for married or committed couples. For more distant family members or friends, joint accounts should be used with great caution. Rather than create a joint account, the bank can authorize someone to sign on the account without creating an ownership interest in the account.
This is commonly accomplished by the bank recognizing the authority granted under a power of attorney. In many states, the banks may insist on a state standard form, or a bank approved power of attorney form. Banks can also authorize signers on accounts without creating an ownership interest; many business accounts are structured this way. Direct deposit and automatic payment for All Social Security benefits and virtually all retirement benefits are paid by direct deposit. Direct deposit eliminates the need to make deposits and prevents lost or stolen checks. Nearly all reoccurring bills can be set up on automatic payment. The combination of direct deposit and automatic payments can help to assure that necessary bills are paid when a person is unable to attend to finances. These arrangements should be monitored to assure that all income is properly received, and automatic payments are correct. Increasingly, financial institutions and utility providers are willing to send copies of invoices and statements to a third party, or to arrange online access for accounts oversight.
This information was supported by a contract with the National Center on Law & Elder Rights, contract number HHSP233201650076A, from the U.S. Administration for Community Living, Department of Health and Human Services, Washington, D.C. 20201
Additional resources to help concerned family and caregivers support their older relatives without the civil death of full guardianship are:
A Guide to Managing Other's Money
Thank you for standing up for life, liberty, and the pursuit of happiness for older Idahoans! Visit the ICOA website for additional information and services to help older Idahoan's age with safety and dignity.