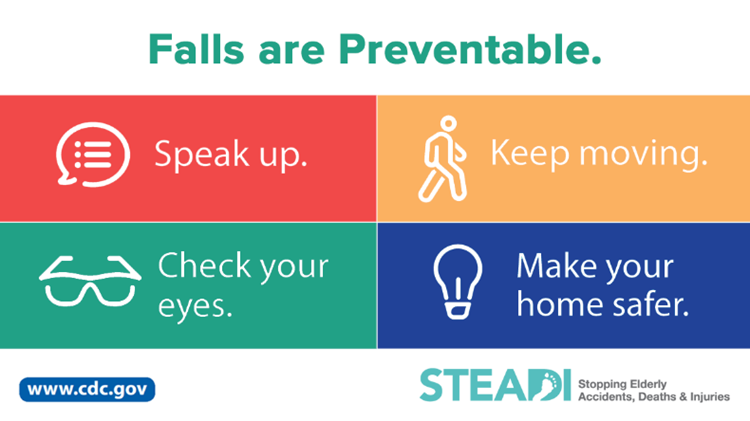 What a Difference a Few Simple Things Can Make
Every day, we look for ways to optimize our efforts. If we can find activities that accomplish multiple goals at once that is even better. This is especially true when it comes to things that benefit our health. For all of us, but especially those over age 60, a significant cause of accidental injuries and death each year are due to falling. Falls often result in expensive emergency department (ED) visits and hospitalizations. Older adults often end up in costly long-term care facilities. The financial cost can be overwhelming. Beyond the initial injuries, a person's ability to actively engage in life, impacting their physical and emotional health, can be the result. Wouldn't it be nice to be able to prevent falls from happening to begin with?
Yes, there is good news! Most risk factors that increase the likelihood of falling can be minimized or eliminated. A few of the most common risk factors and some solutions include:
Trip hazards at home and work
Improve lighting, re-route cords across walking paths, remove clutter on the floor, remove or secure loos floor coverings, add non-slip mats to showers/tubs, fix uneven/loose steps and handrails.
Inappropriate and poorly fitting footwear
Wear shoes that fit well and provide proper support for activities. Loose-fitting shoes, untied laces or those that hang to the ground, and especially "open" shoes like flip-flops and open-back slip-ons can contribute to falling.
Don't be a body builder but ensuring strength and flexibility in our back and legs can mean the difference between a stumble and a fall with injuries.
Many common over the counter and prescription medications can cause issues with balance, reaction time, dehydration, and other contributors to falls. Work with your healthcare team to reduce or change problematic meds.
Wear glasses or contacts that correct your vision as much as possible. (Sometimes we can't fully correct all vision issues.) In addition, be sure to remove reading and computer glasses, and look through the top part of bi-focals or remove them before walking.
Every one of these risk factors can be identified and most can be completely resolved at little or no cost. At the same time, we can reduce the very significant medical costs of fall-related injuries in Idaho which is more than $253 million each year ($50 billion nationally).
Throughout September, the Idaho Commission on Aging (ICOA) will be presenting free seminars about falls prevention. Learn more about…
The full impact of falls on individuals, families, and Idaho communities in the Why Falls Matter seminar.
Performing home and office audits for trip hazards in the Identifying and removing Trip hazards at Home seminar.
Simple at-home exercises you can do by watching or following along as a physical therapist demonstrates them during the Simple Steps seminar.
Ensuring healthcare students and professionals include assessing fall risk as part of their practice by participating in the "brown bag" Falls Assessment As a Matter of Practice seminar.
View the entire Falls Prevention seminar schedule and other falls prevention resources: https://aging.idaho.gov/stay-healthy/disease-prevention-health-promotions/falls/
Isn't it a good idea to take charge of ensuring we, our families, neighbors, and communities can reduce the incidence and impact of falls? Physical and emotional health, loneliness and isolation, financial stability, and the ability to continue to live independently in our communities of choice depend on it. Together we can learn to reduce and eliminate falls.
Thank you for standing up for Life, Liberty, and the pursuit of happiness for Older Idahoans! Visit the ICOA website for additional information and services to help older Idahoan's age with safety and dignity.