On April 24th, the Drug Enforcement Administration (DEA) and its state and local partners will hold the 20th National Prescription Drug Take Back Day. The DEA began the initiative in 2010 to provide easy, anonymous opportunities to remove medicines in the home that are highly susceptible to misuse, abuse, and theft. The Idaho Office of Drug Policy, local Law Enforcement, and prevention partners are hosting Take Back Day collection site events in communities across Idaho on April 24th from 10am to 2pm. You can find events in your area by using the collection site locator tools at takebackday.dea.gov and odp.idaho.gov/prescription-drug-take-back-program.
The events will allow Idahoans an opportunity to safely dispose of any unused or expired prescriptions and help prevent drug misuse in our state. All COVID-19 safety measures will be in place, and individuals will be able to simply drive through and drop off their medications. All prescription meds will be accepted, as well as over-the-counter and veterinary medications. Take Back Day collection sites will also accept vape pens, cartridges, or other e-cigarette devices (without the batteries in the device). Needles will not be accepted.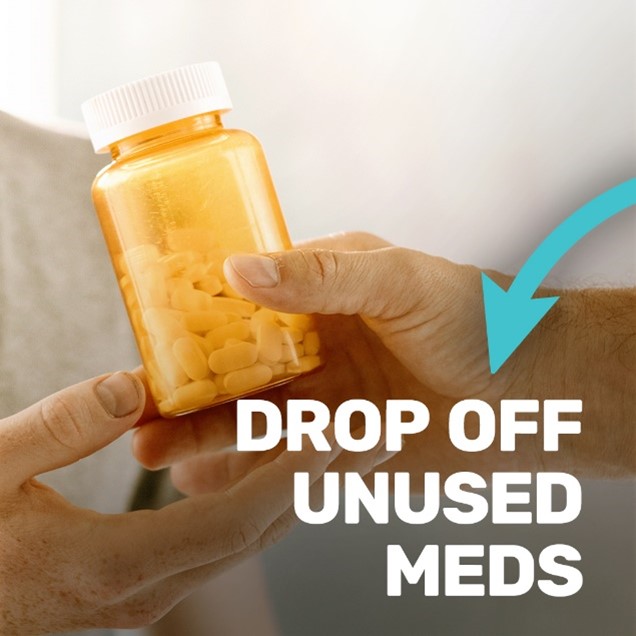 In 2019, over 60,000 Idahoans aged 12 and older misused prescription pain relievers according to the National Survey on Drug Use and Health. Furthermore, results from the 2019 Idaho Youth Risk Behavior and Idaho Healthy Youth Surveys found that nearly 23% of Idaho 12th graders reported misusing a prescription drug one or more times in their life. While a majority of youth did not report misusing prescription drugs, of those that did, over 41% took or received them from a family member or friend, and over 60% misused the medication in their own home.
When left in a medicine cabinet, thrown away or flushed, unused prescriptions can be dangerous to people, animals, or the environment. Help keep our community safe and healthy by dropping off your old medication on Saturday, April 24th.
If you miss your local Take Back Day and need to dispose of prescription medications, find year-round drop off locations online at odp.idaho.gov/prescription-drug-take-back-program.