July is Idaho Beef Month!
This special designation recognizes the tremendous impact the Idaho Beef Industry has had on local communities and the economy of Idaho and is a legacy that has been carried forward by ranching families for generations. Idaho beef strengthens communities and contributes to strong bodies as well.
Did you know that beef is not only delicious, it is also a significant source of many important nutrients? Check out these fast facts to learn how beef contributes to a healthy diet.
A 3-ounce serving of lean beef provides 10 essential nutrients in about 170 calories, including high quality protein, zinc, iron and B vitamins. No other protein source offers the same nutrient mix.

According to National Health and Nutrition Examination Survey data, beef contributes approximately 5 percent of total calories to Americans' diets while contributing more than 5 percent of these essential nutrients: potassium (6.1%), phosphorus (7.3%), iron (8%), vitamin B6 (9.2%), niacin (9.9%), protein (15.2%), zinc (23.1%), and vitamin B12 (25%).

Beef is a protein powerhouse.

A 3-ounce serving of beef delivers 25 grams of high-quality protein, which is essential for building and maintaining strength, for both your mind and body.

You would need to eat 3 cups, or 666 calories, of quinoa, per RACC (Reference Amount Customarily Consumed), which is 140g, to get the same amount of protein (25 grams) as in 3 oz. of cooked beef, which is about 170 calories.

The nutrients in beef promote health throughout life.

Protein, iron, zinc and B-vitamins in beef help ensure young children start life strong, building healthy bodies and brains.

Protein is especially important as we age. After 50 years of age, adults are at risk for losing muscle mass, leading to falls and frailty that affect their ability to age independently.

Many cuts of beef qualify as lean.

Nearly 40 cuts of beef – including some of the most popular cuts such as sirloin – are lean as defined by the U.S. Department of Agriculture (USDA), meaning they contain less than 10 grams total fat, 4.5 grams or less of saturated fat and less than 95 mg of cholesterol per 100 grams (3½ oz), cooked, and per RACC (Reference Amount Customarily Consumed), which is 85 grams (3 oz).

Recent research has shown that lean beef, as part of a heart-healthy diet, can support cardiovascular health.

Beef's high-quality protein, iron, and zinc strengthen a healthy diet and are a nutrient-rich complement to the nutrients found in produce like vegetables and fruits. An approachable way to build a healthy plate that includes beef is to first anchor your plate with protein, fill at least half of the plate with colorful vegetables and fruits and incorporate fiber-rich carbohydrates.
Healthy Beef Recipes
Throughout the month of July, celebrate Idaho's beef industry and let your taste buds be your guide to a variety of delicious beef creations. Visit IDBeef.org for recipes and tips to make Idaho Beef Month a fabulous and flavorful celebration!
Tips for Delicious Grilled Steaks
So, what better way to celebrate Idaho Beef Month than to fire up the grill and create some summertime magic in your own back yard? Launch your BBQ adventure with a few pointers from the pros at Beef. It's What's for Dinner. that will help you create grilled steaks that are juicy and delicious.
Select Your Cut. Beef is versatile! You won't go wrong with all-time favorites such as T-bone, Tenderloin and Top Sirloin. Why not try taking your grilling game up a notch with a cut you might not be as familiar with, like a juicy Flat Iron or a lean, flavorful Flank Steak.
Elevate those flavors. Marinades and rubs are a great way to take beef to the next level with minimal effort. Tender beef cuts can be marinated for as little as 15 minutes and up to 2 hours. For less tender cuts, marinating for at least six hours, but not more than 24 hours, will do the trick.
For inspiration and recipes, peruse the Beef. It's What's For Dinner. Flavor Boosting Rubs & Marinades collection.
Fire it Up. Make sure your grill is clean (to prevent flare-ups) and the rack is well-oiled (to prevent sticking). Medium and steady wins the race. When it comes to cooking beef, there is no need to rush the process by using any higher heat than medium. Cooking at a medium heat allows beef to achieve caramelization while still developing rich flavors and avoiding charring.
Grill to perfection. Use an ovenproof or instant-read thermometer to monitor doneness, and let it go – don't flip the steaks too much. One flip usually does the trick; however, you should take care to avoid charring or burning and be ready to turn down the heat (or move to a cooler spot on the grill) if necessary. Keep in mind the internal temperature will continue to rise for a few minutes after coming off the grill.
Rest & Relax. It's hard to wait but resting the meat before serving prevents all those tasty juices from draining onto your plate. For most cuts, about five minutes will do then it's time to sit back and enjoy!
Slicing your steak? If you're slicing the steak before serving, be sure to cut across the grain. For a drool-worthy finish to your steaks, consider topping them off with compound butter or serving with a sauce.
---
For more information on Idaho's beef industry, visit IDBeef.org
---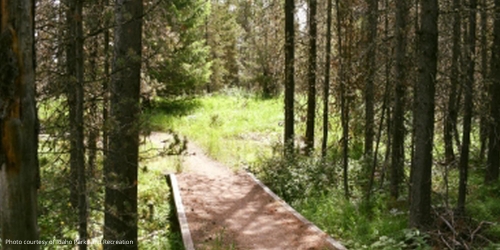 By Idaho Department of Parks and Recreation
With the heat of summer well underway, it's easy to give in to Netflix and the air conditioner. And while it's good to have a day of rest, we like to encourage you to make the most of these long summer days by getting up, getting out, and getting active! And lucky for us, Idaho is famous for its outdoor recreation. Here are a few ideas to help keep your body in motion:
Biking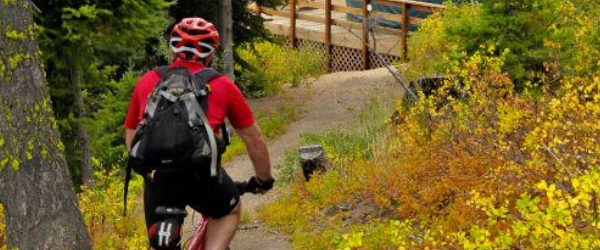 Whether you're an avid biker or just getting back up on two wheels, there are so many fabulous trails and pathways across the state. From the tip of the panhandle to the southernmost points, there are mountain bike trails for all levels of bikers. The Idaho City Area Trail and Yurt System has an intricate array of forested mountain trails that help keep the summer heat at bay. Or check out some of the single-track trails at Priest Lake, Ponderosa, or Eagle Island! And if mountain biking isn't your scene, then we would be remiss if we didn't mention one of the longest continually paved trails in the US. Located in Northern Idaho, The Trail of the Coeur d'Alene's is a 72-mile, fully paved trail that winds along rivers, lakes, and historic towns.
View more trail ideas.
Water Recreation
Sometimes the only way to beat the summer heat is a dip in one of Idaho's many natural waterways. Boat, paddle, or swim your way around more than 2,000 lakes and over 100,000 miles of rivers. And you don't have to be a pro to dive into this summer activity—affordable paddle-craft rentals are available at many state parks and vendors across the state. And more than just fun, swimming is a great workout! It uses the entire body as you move against the resistance of the water. Just be sure to bring a life jacket!
Disc Golf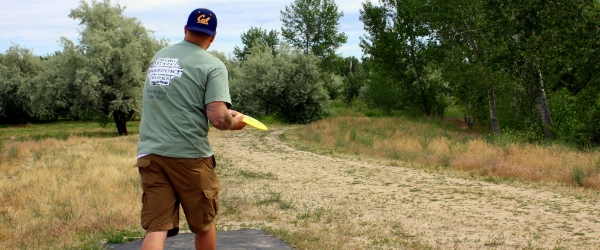 With the increasing popularity of this sport, disc golf courses are popping up everywhere, and Idaho is no exception! And perhaps the best part about disc golf is it can be as rigorous or relaxing of an experience as you like. Many parks offer 9 or 18-hole courses where games can be played in the spirit of competition or simply as a way to enjoy the wildlife and scenery.
Find a course near you.
Volunteering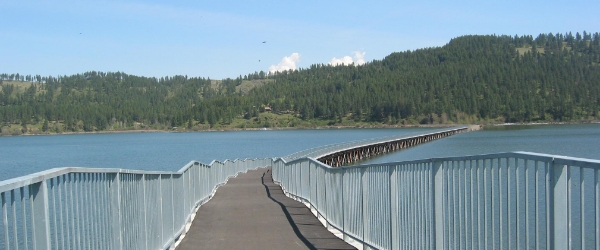 Few things in life make you feel as good as volunteering. And your Idaho State Parks would not be the same without the help from our incredible volunteers! From planting trees to hosting campgrounds to clearing pathways and assisting educational programs, volunteering in an Idaho State Park is a great way to get outside this summer and experience something new. Learn more about getting involved with an Idaho State Park this season.
Come share in the adventures with us this season! With hundreds of campsites, thousands of miles of trails for hiking, cycling, and motorbiking, and events going on nearly every day—there is no reason not to get out and experience Idaho. See you on the trails!