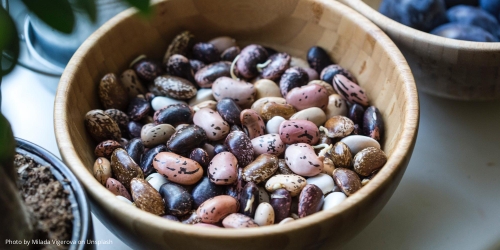 By: Chef Brenda Wattles, RDN and The Idaho Bean Commission
According to the Idaho Bean Commission, the number one reason to eat Idaho's beans is due to our rich volcanic soil and clean mountain water that produces the "highest quality, disease-free bean seed in the world." If that isn't reason enough, Registered Dietitian and Chef Brenda Wattles adds five more reasons to eat our local, healthy food.
Beans are Versatile
There are ten varieties of beans grown in Idaho. All of which have their own flavor profile and texture that offer numerous ways to prepare them. Beans can be served as a main course or a side dish. According to the Dietary Guidelines for Americans, beans can be considered as a main protein entree or a side vegetable. That is versatility at its best!
Beans are Easy to Prepare
Whether you are cooking them dried or straight from the can, they are easy! Dried takes a little longer, but the process is simple (*see instructions below). Once they are cooked and ready to go, add them to soups, hummus, salads, or even smoothies! Visit the Idaho Bean Commission's website for recipes ideas.
Beans are Inexpensive
If you are looking to save money on your grocery bill, beans are a great cost-conscious alternative! Adding them to your menu as a main dish protein can cut your budget tremendously. Chef Brenda recommends making homemade black bean burgers, hearty vegetarian chili, or topping entrée size salads with beans as your main protein source.
Beans are a Protein and a Fiber-Rich Superfood
Most Americans are getting enough protein. However, they are often deficient by about 10 grams of fiber a day. By adding one cup of cooked beans to their diet, they will be adding about 12-16 grams of fiber a day. Additionally, beans are high in antioxidants. They are also low in calories and saturated fat.
Beans are Excellent for Weight Loss
One cup of canned black beans is only 218 calories! Not only are they low in calories, they provide lots of bulk during digestion. So, they will keep you full longer! Adding beans to your diet is one of the best ways to get a variety of nutrients for such a small number of calories.
*How to Prepare Dried Beans
Rinse and drain one pound of dry beans. Discard damaged beans and any foreign material. Place in sauce pan and cover with 6 cups water. Either soak overnight or boil for 2 minutes, remove from heat, cover, and soak for one to four hours. Discard soaking water. Replace with clean water and cook beans at a low boil for one to two hours, until beans are tender.
Not counting some forms of skin cancer, prostate cancer is the most common cancer in American men, and second only to lung cancer in the number of cancer deaths (CDC).  Know the symptoms and risk factors. September is Prostate Cancer Awareness Month and there are numerous free or low-cost screening clinics across Idaho beginning on 9/11. If you're in the Treasure Valley area, register for the FREE Noon-hour seminar Are You Man Enough? presented on 9/27  by Dr. Linda Lam with the Saint Alphonsus Medical Group. Lunch is provided as part of this seminar so register now! Women are welcome to register. Stop with the old worn-out excuses … No news is good news… I feel just fine… Why borrow trouble?… My wife/partner takes care of those things…  I just don't have the time or money right now… Don't let excuses stand in the way of your good health!