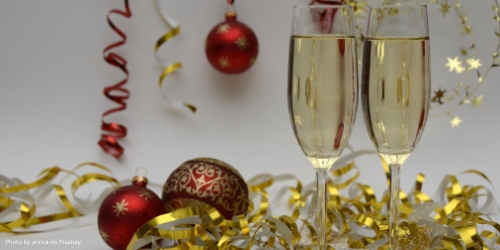 By: Catie Wiseman, Education Manager, Idaho State Liquor Division
Idaho sets the perfect holiday stage for us every year. We hear songs like, "Let It Snow," "Winter Wonderland" and "O Christmas Tree" that put us all in the holiday spirit. We also hear, however, many songs that reference and promote alcohol and being drunk during the holidays such as "Drunk on Christmas," "One More Christmas Beer" and "All I Want for Christmas is Whiskey." They tell us to "Eat, Drink and be Merry," and many of us do. In fact, 16% of adults say they drink more than usual during the holidays and 97% of adults went to work hung over after a party, or know someone who did1. If you decide to consume alcohol this holiday season, it is important to know how to do so in a fun and responsible way.
First, it is estimated that 97+ million Americans will hit the roads between December 23 and January 12. It is illegal to drive with a 0.05% blood alcohol content (BAC) or higher which most women can reach by having just 2 standard drinks; for men, it is around 3 standard drinks. It can be easy to drink more when socializing, so you are encouraged to plan ahead.
Second, it is important to know what you are drinking, how much you are drinking and over what period of time. The standard used when relating alcohol equivalency is: one 12 fl. oz. beer (5% alcohol) = one 5 fl. oz. glass of wine (12% alcohol) = one 1.5 fl. oz. shot of 80-proof liquor (40% alcohol). This can be a bit misleading, however, as many cocktails have 2.0-2.5 fl. oz. of 80-proof liquor in them so if the standard equivalency rule is used, you will actually consume almost two drinks in one. Also, as the proof of the alcohol gets higher, or the amount of time lessons between drinks, the effects on the body can change dramatically.
Third, mixing alcohol and medication is a no-no. Serious harm can come to you and others so do not combine the two.
Fourth, there are so many opportunities to be with friends and family during the holiday and it is fine and legal to enjoy alcohol if you are over the age of 21; and it can be a lot of fun when done responsibly. Mixblendenjoy.com is the state of Idaho's retail website where you can find more information about party planning, drink recipes and product availability around the state. It is a great tool to have when planning your holiday event.
Last, but certainly not least, if you are driving, entertaining or headed to a family function with children, make sure there are non-alcoholic drinks available. A fun and easy drink is a Cranberry Lime Mule Mocktail. Start with a copper cup (if available), fill with ice, add one part cranberry juice, two parts non-alcoholic ginger beer or ginger ale, add a squeeze of lime, then garnish with a lime and a few cranberries. Delicious and festive!
Wishing you and yours a happy, safe and fun holiday season and make sure to keep singing -"Have Yourself a Merry Little Christmas" and "Let's Start the New Year Right!"
Sources:
1 Harris Interactive Survey for Caron Treatment Centers, 2017.
2 Newsroom.AAA.com
"I love the holidays but I want to practice damage control this year…" my coworker stated as she left my office. It sounds fairly clinical, but it's true. The magic of the Season can lead one down the path of destruction and compromise! What gets compromised? – nutrition, budget, sleep habits, exercise, YOU! I did a quick review of my last two weeks. I traded away two trips to the gym to finish holiday house decorations. I traded away at least three trips to the grocery store for after-work holiday get-togethers. Tonight I am trading sleep time and relaxation to get the holiday cards written. UGH! There's hope – you can stop the madness. Practice damage control…
Make a budget for entertainment, food, and gifts
Schedule exercise; put it on your calendar
Prepare at least one healthy meal every day
Quit the "clean plate club"
Eat slowly; savor your food
Have a plan before you arrive at a buffet or office potluck
Meet with friends around events, not food
Just because you can, doesn't mean you should; guard your time
Slow down, take a breath; be in the moment, not on your way to the next moment!
Share what you do for damage control during the Holidays.
The Holiday Season is upon us! Looking for some "healthy" gift ideas? Take a look at this list…
Air popper and popcorn
Basket of whole grains
Tea pot, juicer, or smoothie maker
Seeds for next spring's garden
Walking DVD
Reflective clothing/flashing lights for after-hour walks
New leash for the dog (get the connection?)
Pedometer, hand warmers, hat, gloves, scarf
Hand weights, yoga mat
Subscription to a healthy magazine/website
Health related book: herbs, gardening, clean eating, stretching
Meditation CD, soothing sound machine
Massage or aromatherapy candle
Insulated water bottle (BPA free!)
Natural lip balm
Read more on 
How to Choose Healthy Holiday Gifts
. Don't forget your furry family – check out 
Healthy Pets Holiday Gift Guide
. What's your favorite healthy holiday gift to give or receive?