Celebrate Idaho Family Dinner Night on September 22!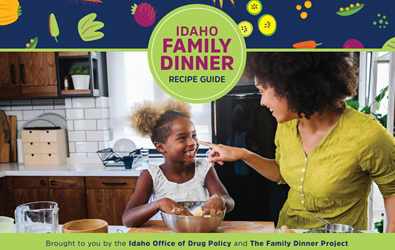 Eating together regularly as a family is one of the best ways to build and maintain strong relationships with your children. Frequent family dinners are linked to positive benefits for youth, including lower rates of substance use, decreased stress, higher self-esteem, and better academic performance in school.
That's why the Office of Drug Policy (ODP) is kicking off an Idaho Family Dinner Night campaign to encourage parents across the state to celebrate Idaho Family Dinner Night on September 22 and make family meals a regular event in their homes.
Idaho Family Dinner Recipe Guide
To help families celebrate and connect around the dinner table, ODP created the Idaho Family Dinner Recipe Guide, which is filled with conversation starters, games and activities, and simple, budget-friendly recipes, including:
Easy Cheesy Enchiladas
Easy Turkey Skillet Dinner
Hot Stuff Casserole
Tasty Italian Chicken
Apple Crisp
To develop the Recipe Guide and share resources with parents, ODP has partnered with The Family Dinner Project, a national nonprofit initiative that champions family dinner as an opportunity for family members to connect with each other through food, fun, and conversation about things that matter. ODP is encouraging Idaho parents to sign up for The Family Dinner Project's free online program – Food, Fun, and Conversation: 4 Weeks to Better Family Dinners – for tools and resources to help make family dinners a household staple in just four weeks.
For more information about Idaho Family Dinner Night, download the Recipe Guide, and learn how to become a family dinner pro in three easy steps, visit https://odp.idaho.gov/family-dinner-night/