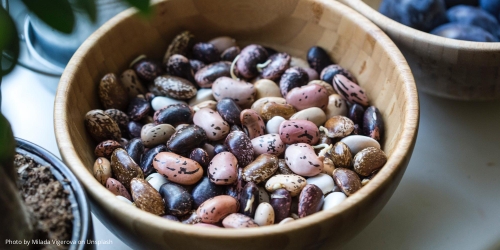 By: Chef Brenda Wattles, RDN and The Idaho Bean Commission
According to the Idaho Bean Commission, the number one reason to eat Idaho's beans is due to our rich volcanic soil and clean mountain water that produces the "highest quality, disease-free bean seed in the world." If that isn't reason enough, Registered Dietitian and Chef Brenda Wattles adds five more reasons to eat our local, healthy food.
Beans are Versatile
There are ten varieties of beans grown in Idaho. All of which have their own flavor profile and texture that offer numerous ways to prepare them. Beans can be served as a main course or a side dish. According to the Dietary Guidelines for Americans, beans can be considered as a main protein entree or a side vegetable. That is versatility at its best!
Beans are Easy to Prepare
Whether you are cooking them dried or straight from the can, they are easy! Dried takes a little longer, but the process is simple (*see instructions below). Once they are cooked and ready to go, add them to soups, hummus, salads, or even smoothies! Visit the Idaho Bean Commission's website for recipes ideas.
Beans are Inexpensive
If you are looking to save money on your grocery bill, beans are a great cost-conscious alternative! Adding them to your menu as a main dish protein can cut your budget tremendously. Chef Brenda recommends making homemade black bean burgers, hearty vegetarian chili, or topping entrée size salads with beans as your main protein source.
Beans are a Protein and a Fiber-Rich Superfood
Most Americans are getting enough protein. However, they are often deficient by about 10 grams of fiber a day. By adding one cup of cooked beans to their diet, they will be adding about 12-16 grams of fiber a day. Additionally, beans are high in antioxidants. They are also low in calories and saturated fat.
Beans are Excellent for Weight Loss
One cup of canned black beans is only 218 calories! Not only are they low in calories, they provide lots of bulk during digestion. So, they will keep you full longer! Adding beans to your diet is one of the best ways to get a variety of nutrients for such a small number of calories.
*How to Prepare Dried Beans
Rinse and drain one pound of dry beans. Discard damaged beans and any foreign material. Place in sauce pan and cover with 6 cups water. Either soak overnight or boil for 2 minutes, remove from heat, cover, and soak for one to four hours. Discard soaking water. Replace with clean water and cook beans at a low boil for one to two hours, until beans are tender.
It's finally here. I thought I would never see green plant life again after this winter. It's actually exciting to see dirt and mud out my window. Yay for spring and all the changes it brings! Now for some spring cleanup. Looking around, I see stacks of "stuff" in my office and my house,
begging to be put away
. My pantry appears to be stocked with cold weather food staples, and I have yet to find my good walking shoes. So I made a little list for you and for me…
Clear the clutter at home and on your desk
Clean out your "food drawer" at work…add some healthy snacks
Move it!
Visit a garden center…summer is a great time to learn to cook with herbs
Let your inner child play – jump rope, ride a bike, skip stones, throw a ball for the dog
Commit to "eat clean" one meal a week
Eat more fish
Get on top of your weight creep – now!
Challenge your brain every week through books, puzzles, and games
Commit to your tracking device – use it
Enjoy the fresh fruits and veggies starting to pop out in stores and gardens
What ideas do you have to spring into action and clear the winter clutter out of your life?
A co-worker came in last week all excited about 'clean eating' and asked if I was into it. I said 'of course' I always wash my food and clean up my dishes. She grimaced at me. So, I did some homework and here's what I found.
Clean eating 
is kind of about going back to the basics with food. Clean eating asks you to 
reduce the processed foods 
you take in and prepare and eat them in as natural or as whole a state as possible…eat that potato as a potato, not as a French fry with sauce. It takes me back to growing up with a big garden and cooking our own food vs. eating out of a box, restaurant, or microwave. Clean eating is common sense. That being said, I decided this weekend to track things I eat that are more processed than whole. I was amazed! My Dorito chips were virtually unrecognizable as corn, the broccoli was screaming to get out from under the mushroom soup and crunchy fried onion rings, I couldn't find anything whole or natural about the hot dog, and I guess the peach cobbler was just wrong from every perspective. My point? Stop and think about what you eat. When you can, eat foods that are in their whole or natural state. Skip the sauces, sugars, creams, salts, crunchies, and all the add ons we use to spice things up. Your body will appreciate you! Check this month's 
Featured Recipe 
on Health Matters…it's pretty 'clean'. Do you have a favorite recipe you can share that leaves most of the ingredients whole or natural?