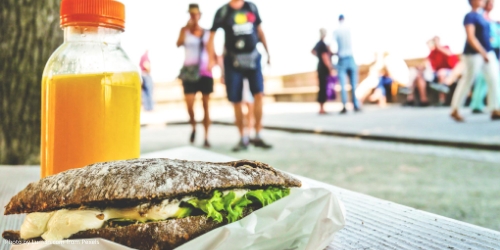 By: Jackie Amende, MS, RDN, LD, University of Idaho FCS Extension Educator
If you are road tripping or traveling abroad to a new and exciting place, you can still enjoy all the fun foods that come with traveling without compromising your healthful eating plan. Here are some tips for your upcoming summer vacation:
Focus on portion sizes. You don't have to avoid those new and exciting foods that come with traveling. Share large food portions with your travel partner or go with the small size for just yourself.
Keep your regular meal times on vacation. It can be easy to graze on food all day while on vacation but try to stick with your usual eating pattern.
Watch what you're drinking. Focus on water or other unsweetened beverages. Skip the sweetened and various adult beverages which are often loaded with unnecessary calories.
Pack non-perishable foods with you. Dried fruit, nuts, and pretzels make for relatively healthy snacks that are nutrient-rich. These non-perishable foods are perfect for a quick snack to satisfy you until your next scheduled meal time.
If you are road tripping, pack a cooler with fresh pre-cut vegetables and fruits. Try slicing some bell peppers and cutting up some celery sticks. In addition, keep whole fruit or sliced fruit ready to go.
Be physically active! Get outside and walk to enjoy the sites where you are vacationing. If you are on a road trip, schedule frequent stops where you can get out, stretch your legs, and take a short walk.
With these healthful eating tips, food safety is still a priority, especially if you're road tripping. Bringing perishable foods with you like meats and cheeses may cause some unwanted foodborne illnesses if these items are not stored properly. Don't store perishable foods unrefrigerated for longer than 2 hours. If stored in a cooler, make sure coolers are 40 degrees or cooler. In addition, don't leave your cooler directly in the sun or in the trunk of your car on road trips. Putting the cooler in the backseat of the car will generally be cooler than the trunk. Finally, keep hand sanitizer or moist towelettes with you if you don't have access to a restroom to wash your hands before and after eating. Now, enjoy your trip!
Want to learn more about healthy eating and/or food safety? University of Idaho Extension teaches many classes and programs in the area, like Eating Healthy on a Budget, Nutrition for Healthy Aging, Diabetes Prevention Program, Dining with Diabetes, and more. Check out the Canyon County UI Extension website at https://www.uidaho.edu/extension/county/canyon or call 208-459-6003 for more information.