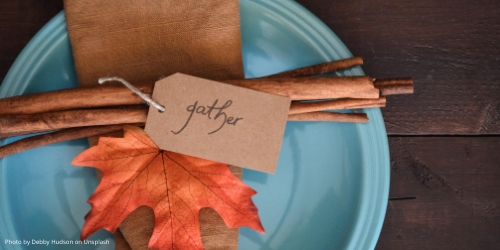 By: Health Matters State Employee Wellness Program
Thanksgiving is right around the corner and we've got four simple tips to keep you healthy, happy, and grateful!
Let's Talk Safe Turkey. No one wants to be responsible for making people sick from food, especially on a holiday! Practice good food safety including washing hands frequently; keeping raw meat away from ready-to-eat foods; keeping hot foods hot and cold foods cold; and refrigerating perishable leftovers within two hours1.
The first three bites are always the best. Our enjoyment of food diminishes as we get less hungry2. Savor all your favorites but try to notice when you are no longer completely enjoying the stuffing, potatoes, or pie and consider putting down your fork. You can always have more later!
Thanksgiving is about so much more than food. Don't lose sight of the real reason for the holiday – showing gratitude and connecting with people you care about. Try a gratitude tree or "I'm thankful for…" jar as an activity to bring everyone together around something other than the turkey.
Tell your body "thank you!"  Make time to get some sort of movement throughout the day. Instead of using exercise to "burn off" your Thanksgiving meal, consider it an act of gratitude to your body. Our bodies were made to move and there is no better way to show your appreciation than by getting your blood pumping!
1 "Food Safety by Events and Seasons." FoodSafety.gov, https://www.foodsafety.gov/keep-food-safe/food-safety-by-events-and-seasons#thanksgiving. Accessed November 2019.
2 Consason, Alexis, Psyc.D., "Tips for a Mindful Thanksgiving Feast." Psychology Today, https://www.psychologytoday.com/us/blog/eating-mindfully/201211/tips-mindful-thanksgiving-feast. Accessed November 2019.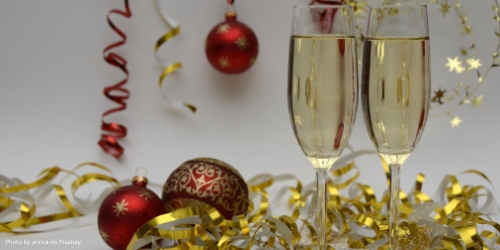 By: Catie Wiseman, Education Manager, Idaho State Liquor Division
Idaho sets the perfect holiday stage for us every year. We hear songs like, "Let It Snow," "Winter Wonderland" and "O Christmas Tree" that put us all in the holiday spirit. We also hear, however, many songs that reference and promote alcohol and being drunk during the holidays such as "Drunk on Christmas," "One More Christmas Beer" and "All I Want for Christmas is Whiskey." They tell us to "Eat, Drink and be Merry," and many of us do. In fact, 16% of adults say they drink more than usual during the holidays and 97% of adults went to work hung over after a party, or know someone who did1. If you decide to consume alcohol this holiday season, it is important to know how to do so in a fun and responsible way.
First, it is estimated that 97+ million Americans will hit the roads between December 23 and January 12. It is illegal to drive with a 0.05% blood alcohol content (BAC) or higher which most women can reach by having just 2 standard drinks; for men, it is around 3 standard drinks. It can be easy to drink more when socializing, so you are encouraged to plan ahead.
Second, it is important to know what you are drinking, how much you are drinking and over what period of time. The standard used when relating alcohol equivalency is: one 12 fl. oz. beer (5% alcohol) = one 5 fl. oz. glass of wine (12% alcohol) = one 1.5 fl. oz. shot of 80-proof liquor (40% alcohol). This can be a bit misleading, however, as many cocktails have 2.0-2.5 fl. oz. of 80-proof liquor in them so if the standard equivalency rule is used, you will actually consume almost two drinks in one. Also, as the proof of the alcohol gets higher, or the amount of time lessons between drinks, the effects on the body can change dramatically.
Third, mixing alcohol and medication is a no-no. Serious harm can come to you and others so do not combine the two.
Fourth, there are so many opportunities to be with friends and family during the holiday and it is fine and legal to enjoy alcohol if you are over the age of 21; and it can be a lot of fun when done responsibly. Mixblendenjoy.com is the state of Idaho's retail website where you can find more information about party planning, drink recipes and product availability around the state. It is a great tool to have when planning your holiday event.
Last, but certainly not least, if you are driving, entertaining or headed to a family function with children, make sure there are non-alcoholic drinks available. A fun and easy drink is a Cranberry Lime Mule Mocktail. Start with a copper cup (if available), fill with ice, add one part cranberry juice, two parts non-alcoholic ginger beer or ginger ale, add a squeeze of lime, then garnish with a lime and a few cranberries. Delicious and festive!
Wishing you and yours a happy, safe and fun holiday season and make sure to keep singing -"Have Yourself a Merry Little Christmas" and "Let's Start the New Year Right!"
Sources:
1 Harris Interactive Survey for Caron Treatment Centers, 2017.
2 Newsroom.AAA.com
Holiday time can bring out the best – and the worst – in people. Don't let the stress and hub-bub dull your attitude. Try these things to keep your sparkle on!