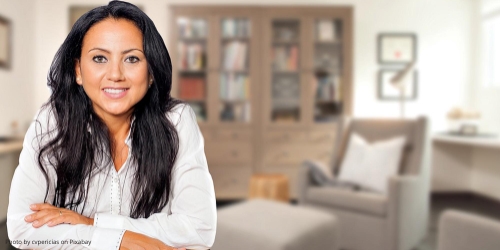 By: Charlene Cariou, MHS, CHES, Comprehensive Cancer Prevention Program Manager, Idaho Department of Health and Welfare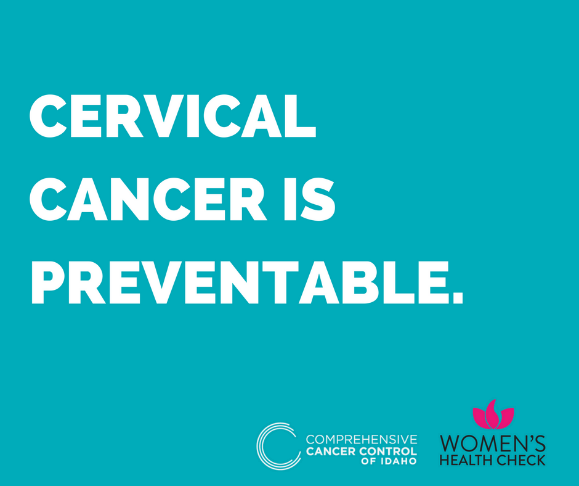 Cervical cancer screening can prevent cancer – don't put it off!
Start the new year off right and get screened for cervical cancer. Get screened regularly- cervical cancer can be prevented when cell changes are caught early and treated
Did you know?
Cervical Cancer Quick Facts:
3 out of 10 Idaho women still need to be screened for cervical cancer – most of these women have health insurance coverage.
Idaho ranks 50th in the nation for cervical cancer screening, we can do better!
Women should have their first PAP test in their 20's and regularly until age 65.
Cervical cancer is PREVENTABLE through regular screening.
Reduce your Risk
What increases your risk for cervical cancer in the first place?
Tobacco use – smoking doubles your risk for cervical cancer
Almost all cervical cancers are caused by human papillomavirus (HPV). HPV vaccination is recommended for boys and girls at ages 11-12.
Call to Action
Get screened and encourage your friends and family to talk to their doctor about getting screened.

For more information about cervical cancer, check out these resources:
If you or someone you know can't afford paying for cervical cancer screening, Women's Health Check can help!
Colorectal cancer is preventable and treatable when detected early. There are certain risk factors that affect a person's chance of getting cancer. Different cancers have different risk factors. Some risk factors cannot be changed, such as a person's age or family history. Other factors can be controlled to minimize a person's risk for getting cancer. There are six factors that have been linked to colorectal cancer.
1. Eat a Healthy Diet: A diet high in vegetables, fruits, and whole grains has been linked to decreased risk of colorectal cancer. Add a variety of vegetables and fruit to your daily diet. Replace refined grain products made with white flour with whole grains like oats, spelt, and whole wheat.
2. Stay Active: Regular physical activity can significantly lower your risk of getting colorectal cancer. Adults should get at least 150 minutes of moderate physical activity each week. It all adds up, so it's okay to start small by adding just a few minutes of movement at a time.
3. Watch Your Weight: Being overweight or obese increases your risk of getting colorectal cancer. Eating a balanced diet and staying physically active can help you reach or maintain a healthy weight.
4. Don't Smoke: Smokers are more likely than non-smokers to develop and die from colorectal cancer. If you smoke and you want to quit, see the American Cancer Society's Guide to Quitting Smoking or visit Idaho's ProjectFilter.org.
5. Limit Alcohol: Colon cancer has been linked to heavy drinking. It is recommended to limit alcohol to no more than 2 drinks a day for men and 1 drink a day for women. A single drink amounts to 12 ounces of beer, 5 ounces of wine, or 1½ ounces of hard liquor.
6. Get Screened: Screening tests detect cancer before symptoms develop. Colon screenings often find growths called polyps that can be removed before they turn into cancer. The American Cancer Society recommends that individuals over 50 years old get screened for colorectal cancer. Depending on family history and other risk factors, there are a variety of tests that screen for colorectal cancers. Talk with your doctor to learn more.