April 2020
A Health Matters Hero inspires those around them and contributes to a culture of well-being for fellow State of Idaho employees.
Health Matters Hero: Pete Petersen
April 2020
Congratulations, Pete!
Pete works for Department of Health and Welfare in Lewiston and was nominated by two of his coworkers to be April's Health Matters Hero!

From Anonymous, "Pete is concerned about the health of his co-workers and posts a daily "planking" e-mail along with health and nutrition suggestions. Pete is very active in assisting type 2 diabetics to be pro-active in controlling their diabetes through good nutrition and exercise. He often facilitates classes and has written books regarding weight loss and controlling diabetes. Pete embraces a healthy lifestyle and often offers suggestions to others on how to lead a healthier, happier life. He has overcome obesity and diabetes himself, and is a true Health Matters Hero!"

From Jennifer Funk, "Pete is a constant positive influence on our staff; he shares motivational sayings, encourages to plank and does every morning with whomever wants to join him. He shares wonderful recipes."
WHAT IS YOUR 'WHY'?
I want to be able to help others, my children, grandchildren, co-workers, others in the community and world.
WHO INSPIRES YOU?
Many wonderful co-workers and team members. I find inspiration and things I can learn from all around me.
WHAT IS YOUR GREATEST WELL-BEING ACHIEVEMENT?
Losing 115 pounds after about 3 decades of morbid obesity. While still a diabetic, my diabetes is completely controlled by diet and exercise. I used to be sick a lot. Over the past 4 years, I only missed work because of being ill for one short period after a fall on the ice.
I did a TEDx on beating food addiction. I would have liked to have done it better, but it was a goal and I did it.
WHAT IS A GOAL YOU ARE CURRENTLY WORKING ON?
I've set a new, slightly lower weight goal.
HOW DO YOU STAY WELL AT WORK?
I stand while working, I do short exercise while working, I enjoy the positive energy from others.  I hope I share positive energy with them. I try to keep a good sense of humor, without being inappropriate.
FREE WRITE! IS THERE ANYTHING ELSE YOU'D LIKE TO ADD?
We have a responsibility to take care of ourselves. There are things we can do for our physical and mental health. There are foods we can eat, foods we need to avoid, simple exercises we can do almost anytime and anywhere, and we can lift and help others.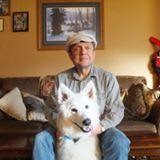 Check out the Health Matters blog post Pete wrote about healthy eating!